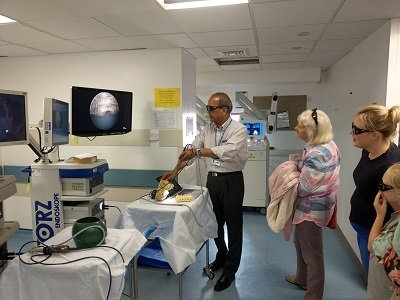 The Wessex Neurological Centre has been at the forefront of Endoscopic Neurosurgery for many years, with surgeons having performed thousands of skull base procedures and resections of Pituitary tumours. The technique involves operating via the nasal passage, and is far less invasive for such cases that full craniotomies. Until now, surgeons have had to use endoscopic cameras that provide only 2D images, but new technology now offers 3D imaging which not only makes it easier for the surgeon to navigate to and carry out the required procedure, but makes possible operations that simply could not safely be conducted with the 2D endoscopes.
Thanks to a donation of over £116,000 from Smile4Wessex, just such a 3D Endoscope is now on order and should be in use at the Wessex Neurological Centre early in 2018. We'll bring further details as soon as it is operational but would like to thank all of our supporters for their generosity in helping us to again enhance the range and quality of treatment available to patients at the Wessex.
You can read more about Endoscopic skull bas surgery by clicking the PDF below.